Updates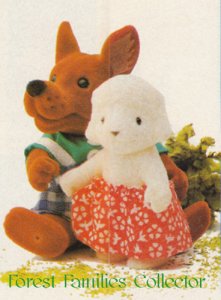 1.8.2021 After the site has been down for a while, I finally put it back online! Some changes with my server provider mean that I have to re-make the whole website. I'm now working on it and will be putting pages back online as soon as I get them re-made (and hopefully updated as well). After everything is back online, I will make another post here.
17.8.2020 I updated The Families / Frog with some new photos of the frog family.
27.5.2019 I updated Different Sets / Family Packages with some newly found photos of a Dyrene i Bamseskoven family box. How exciting! And the Thanks page was of course updated accordingly.
19.1.2019 After three years, I updated some photos to the Panda Family page. The website has been quiet and there was something wrong with adding pictures, but now it is fixed. I will try to post new photos and information a bit more frequently.
2.3.2016 Added a new section under The Series. It's called Articles and it includes two articles that I have written about flocked critters to the member magazine of Nukke- ja leluyhdistys ry (The Finnish Doll and Toy Society).
22.11.2015 Updated Different sets/Advertisement with a cute (but short) video ad. Added information and pictures of the circus animals to Different Sets/Misc Sets. Added new pictures of Leaflet D05 (Gesamt-Programm leaflet) to Different Sets/Leaflets. Added a new, better picture of leaflet B05. Will need to update my wants and trades later, they aren't quite up to date right now!
29.5.2015 One Year Online! Updated Dinosaur family in Families. Updated List of Countries (under The Series). Happy birthday to Forest Families Collector website! :)
22.5.2015 Added one new Finnish Pikkaraiset ad to Different Sets/Advertisement and replaced the USA ad with a bigger picture.
17.4.2015 Updated Owl and Bear family in Families. All new information about the owl family. On the bear page I modified the outlook a little. This will be the style of all the family pages.
12.4.2015 Added three new leaflets to Different Sets/Leaflets.
9.4.2015 Some updates on Home/Trades page (including new leaflets for trade). A new link added and an old one removed because Miniature Critters no longer exists. Guestbook removed because Freebok has stopped providing their service.
2.3.2015 Major update on Home/Trades page.
1.3.2015 Added three new leaflets to Different Sets/Leaflets.
28.2.2015 Added new leaflets to Different Sets/Leaflets and updated the whole page with a categorizing system. Very minor updates/corrections to other pages.
20.1.2015 More information about my sale critters added to Trades.
5.1.2015 Added two new leaflets to Different Sets/Leaflets.
3.1.2015 Updated the Different Sets/Wedding with interesting new pictures and a bit of information. Added a new leaflet to Different Sets/Leaflets. Added a couple of new pictures and pieces of information to Different Sets/Misc (Band, Ski, Occupation). Added new information and pictures about buildings to Different Sets/FF House. Also added a whole new section about Advertisement to Different Sets! Thanks page updated accordingly.
1.1.2015 The Finnish version of the website has been published. Welcome text updated with navigation tips. Wants and trades updated. Furniture section combined with Accessories. Plenty of new information and pictures about accessories and furniture added!
31.12.2014 Families/Bear updated completely with new information and pictures. Thanks updated.
30.12.2014 Different Sets/Leaflets updated with one new leaflet. Happy new year!
12.11.2014 Different Sets/Leaflets updated with four new leaflets, a picture and a little edit to solid body moulds in Identification/Identifying FF.
14.8.2014 A whole new section about Leaflets added to Different Sets. Also updated the Site Map accordingly.
7.8.2014 Added a picture of the Bamsehuset to Different Sets/FF House, along with minor updates in the text. Also added a picture of cow professionals to Different Sets/Misc.
8.6.2014 Added pictures of my Trade animals and updated my Want list. Into Miscellaneous sets I added pictures of the band and other sets. There's also a new picture of the FF House and an added piece of information in Identification that a solid mould cat exists.
30.5.2014 Gorilla and Elephant families' pages updated with pictures of the babies of those families. New pictures to Miscellaneous sets about occupation animals. Thanks page updated accordingly.
29.5.2014 The remade, better than before website is online again. Welcome!
So far the site is still work in progress and I am planning to replace many of the pictures with better ones. I will also update each animal family's page with more information and pictures. There's plenty more to come. Feel free to give feedback and I'll be happy to make changes where needed!